Robotic-assisted surgery on the Sunshine Coast expanded to gynaecology patients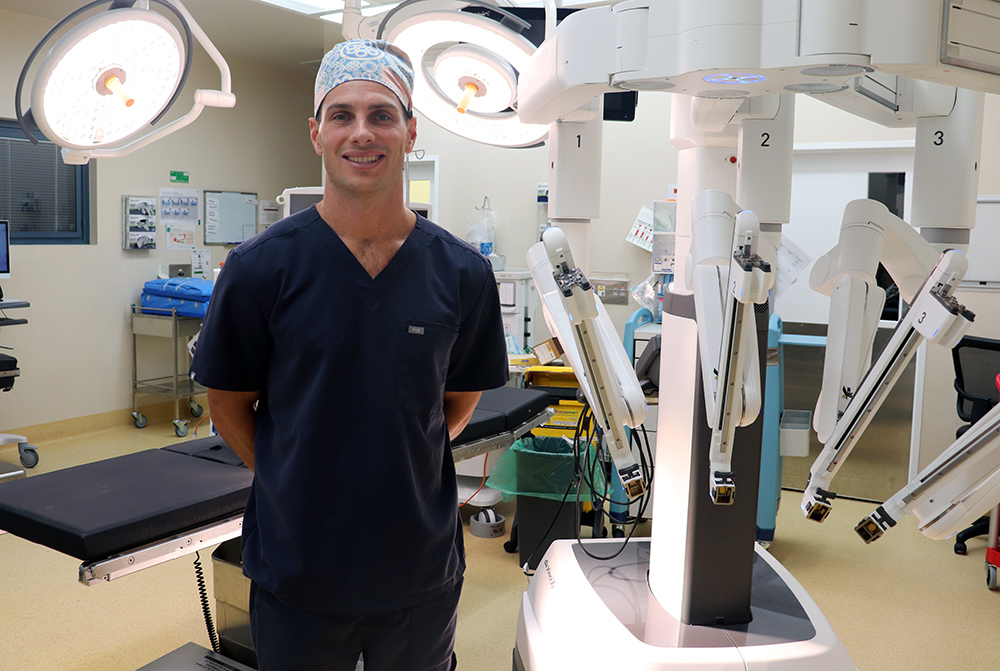 The commencement of robotic-assisted surgery for some gynaecology surgical cases at Buderim Private Hospital marks an exciting new chapter for Sunshine Coast patients.
In a Sunshine-Coast first, obstetrician and gynaecologist Dr Benjamin Stokes is utilising the state-of-the-art Da Vinci Xi surgical robotic system for selected gynaecology surgical patients, including those requiring surgery for hysterectomies, endometriosis and uterine fibroids.
Dr Stokes said he was very proud to bring the technical marvels of robotic gynaecological surgery to women on the Sunshine Coast.
"This new technology gives surgeons better access, better vision and hopefully better outcomes for our patients," Dr Stokes said.
"The current literature demonstrates outcomes are similar to conventional laparoscopic surgery however from a surgeon perspective, you get better vision during surgery due to three-dimensional high definition view inside the body," he said.
"Another major advantage is that due to the 360-degree rotational instrument, it allows access to areas that you previously couldn't operate on laparoscopically and required a large, open incision."
"Another benefit is that the robot pivots on a point of the skin so there is no tension on the tissue which contributes to post-operative pain."
"Studies are already showing a trend towards shorter hospital stays with less pain relief and faster return to normal activities."
Importantly, robotic surgery has also been shown to help surgeon longevity due to being more ergonomically favourable in the upper back, shoulders, arms and wrists.
Training for robotic surgery is an extension to laparoscopic (keyhole) surgery which takes a number of years. Dr Stokes' extensive robotic training included simulation, attending training sessions in Sydney and Adelaide, and working alongside experienced surgeons such as Professor Felix Chan.
Dr Stokes is currently the only surgeon credentialed to conduct robotic gynaecological procedures at Buderim Private Hospital however Dr Robert North is currently undertaking his advanced training in this specialised surgical technique, with other doctors also planning to seek accreditation.
Buderim Private Hospital has invested over $3 million in the Da Vinci Xi surgical robotic system and has been using the technology to successfully perform minimally invasive surgical procedures since October 2017.
In addition to offering robotic gynaecological surgery, Buderim Private Hospital provides robotic surgery for prostate and general procedures, including patients requiring hernia and bowel surgery.
The purchase of the Da Vinci Xi robotic surgical equipment was in part made possible due to the generous bequest of a former patient and local Sunshine Coast resident, Mr Leslie Cairns.
Melinda Daniels, Assistant Director of Clinical Services - Perioperative and Surgical, said Buderim Private Hospital is thrilled to continue its long tradition of providing Sunshine Coast patients with access to new technology and services.
"It is an important step forward for the women of the Sunshine Coast to be able to access robotic gynaecology surgery locally and not have to travel away from home and their support networks," Mrs Daniels said.
"As a not-for-profit hospital, for more than 40 years we have been committed to reinvesting surplus funds into new services that will benefit our community. We are extremely grateful to Mr Cairns for his charitable gift that has assisted us to make robotic surgical services at the hospital a reality and has helped hundreds of people," Mrs Daniels said.
As part of UnitingCare, the is owned by the Uniting Church and is the only not-for-profit provider of private hospital services on the Sunshine Coast.