Locals inspired by cancer experience to help others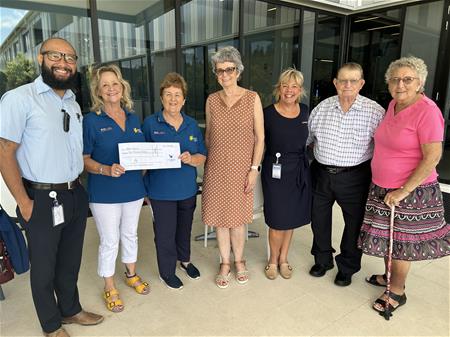 A small but mighty group of Hervey Bay locals have used their cancer experiences to make an impact in the community, recently raising $1,000 to support the work of the Cancer Council.
Connected through the Forbes Cancer Care Centre at St Stephen's Hospital, Alf Stockill and Sharon Werder, are leading the charge to raise funds by sharing their crafts with patients, visitors and staff.
It all began when 84-year-old Alf Stockill started selling his award-winning handmade timber pens at the hospital in 2021 with a goal of raising funds for charity.
Alf's wife of more than 60 years, Yvonne, had just started receiving regular treatment after being diagnosed with myeloma, a type of blood cancer.
Since taking up woodwork 20 years ago upon retirement, Alf estimates he's made close to 2,000 pens, some of which have been awarded first prize including at the Kingaroy Show.
It wasn't the first time Alf had sold his much-loved pens to help support others. He'd also done so years earlier while undergoing treatment himself for Hodgkin's lymphoma in Brisbane, and on many other occasions to support a range of community groups.
"The staff at the hospital treated Yvonne so well, I thought I could do something to help. I get enjoyment from making the pens and from seeing others enjoy them, and I'm helping somebody by doing it," Alf said.
"You don't look for recognition, but it was nice to be a part of handing the cheque over to the Cancer Council. It's good to think that what I did is helping someone," he said.
In 2022, Alf's small stall of pens grew to include hand-crafted greeting cards, all thanks to St Stephen's patient, Sharon Werder.
Sharon began making greeting cards over 15 years ago and in only six months has already sold hundreds to those who pass through the hospital.
"I do have quite a collection of cards! I'm part of a network of ladies who do card making. We have classes to go to and get-togethers, so it's a bit of company as well," Sharon said.
Since being diagnosed with breast cancer in late 2021, Sharon has visited the Forbes Cancer Care Centre every three weeks for treatment, each time replenishing the stock of cards for sale.
"Every time I go up, I take a bundle of 20 or 30 cards. They all sell and it's convenient for staff to quickly pop by and buy a card when they need one," she said.
"It was really good to see the staff from the Cancer Council when they visited to collect our donation in February. They said the funds would help people locally too, which was great to hear," she said.
February also marked the last round of treatment for Sharon, but that won't mean the end of her fundraising.
"I'll still be dropping cards in every so often!" Sharon said.
Alf won't be giving up any time soon either.
"If I can continue to make 10 pens a week, I'll be happy," Alf said.