Major milestone as St Andrew's passes 1,000 TAVI heart procedures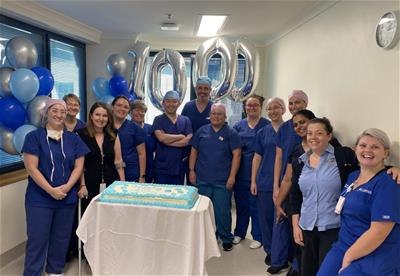 St Andrew's War Memorial Hospital cardiac team are this month celebrating 1,000 Transcatheter Aortic Valve Implantation (TAVI) procedures, making St Andrew's the first private hospital in Queensland to achieve this milestone.
1000th TAVIIn 2015, Dr Karl Poon and Dr Alexander Incani were the first to provide the TAVI procedure at St Andrew's.
Less than eight years later, in March 2023, the same team performed our 1,000th TAVI, live streamed to a conference of interventional cardiologists from around the world at India Live 2023.
With this extensive experience, last year, the CardioVascular Clinics team at St Andrew's were also named Australia's first and only TAVI Teaching Centre of Excellence, in recognition of the experience, outcomes and teaching contribution of Dr Karl Poon and Dr Alexander Incani in the Asia Pacific region.
For patients diagnosed with aortic stenosis, a condition which causes narrowing of the aortic valve, the cutting-edge keyhole TAVI procedure provides a superior alternative to open heart surgery.
Dr Poon said the milestone signified 1,000 patients who have avoided the need for open heart surgery.
1000th TAVI Doctors"We are humbled to be entrusted by our colleagues and so many patients with their structural heart care needs," Dr Poon said.
"To be able to share this milestone at India's largest meeting of interventional cardiologists at India Live 2023 was the icing on the cake.
"Ongoing learning and research with key leaders in the field is at the centre of our Teaching Centre of Excellence motto. This milestone inspires us to continue to innovate and improve," he said.
In July 2022, TAVI was approved for almost all patients with aortic stenosis, meaning today the procedure is an option for an even larger cohort of patients.
"A decade ago, the TAVI procedure was provided as a treatment which aimed to improve the quality and longevity of life for patients who would otherwise be deemed untreatable," Dr Alexander Incani said.
"Today, a whole range of patients stand to benefit from this minimally invasive procedure and we're thrilled to have been a part of making that possible for people here in Queensland.
"We hope to continue our record in providing many new first in Queensland and Australia heart devices and techniques for our patients," he said.
St Andrew's General Manager, Mairi McNeill, said the achievement was a great example of the St Andrew's commitment to innovation and to providing patients with high quality cardiac care.
"At St Andrew's we have a long history of innovation and excellence in cardiac care and we're extremely proud to add this to our list of achievements," Mairi said.
"1,000 TAVI procedures doesn't happen without great teamwork, collaboration and dedication. This really is a testament to our exceptional team and their determination to achieve excellence and improve outcomes of those we care for.
"I congratulate and thank each and every team member, past and present, who has been involved in the making of this milestone," Mairi said.
At St Andrew's, a multidisciplinary team combining the expertise of interventional cardiologists, cardiothoracic surgeons, echocardiologists, intensivists, anaesthetists, geriatricians, and other health professionals work together to decide the best treatment plan for each patient and assess whether TAVI is an option.
The designation of the CardioVascular Clinics team as a TAVI Teaching Centre of Excellence was made by Edwards Lifesciences in 2022.